Parish Council websites for Transparency Code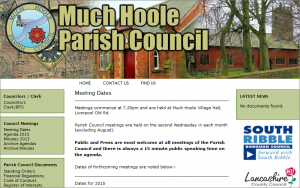 [July: Just heard there's Government funding on the way for new websites, for parishes meeting certain criteria.]
You might have heard that the government has brought in a transparency code requirement for parish councils to publish certain information and financial details on their website. We already provide suitable websites for councils. Have a look at Much Hoole or Bretherton, for example.
Using a similar template, we can setup your council's website quickly and cheaply. The system used is well-known for providing good security. We look after backups and making sure the server is online and available. You get an easy to use system, allowing you to upload documents, information, notices, agendas, etc. You can do this from your own computer, someone else's computer, at the library, or even on an iPad or tablet – live from the meeting itself!
Lancashire Association of Local Councils use the same template.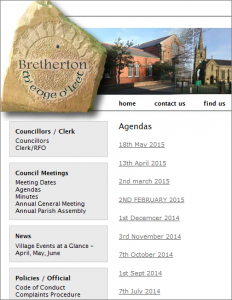 Take a look at their website for a slightly different layout idea, plus separate logins.
You can also have a domain name registered for your parish, eg muchhoolepc.org.uk. So that there's a www.yourparish.org.uk address for the website and your emails can then be clerk@yourparish.org.uk (either forwarded to your regular email address or as a separate mailbox)
Please use the contact page to get in touch and Mike will discuss what you want to do – no techie talk or acronyms, we promise!