Our favourite laptop mouse
Sometimes having just the right bit of equipment can make all the difference, especially something you use all day every day. Our favourite laptop mouse is the Microsoft Wireless Mobile Mouse 4000.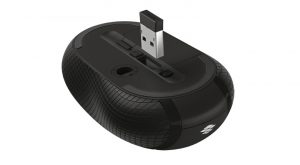 Little bit smaller than a standard desktop mouse, making it convenient for carrying. Compact wireless receiver which doesn't get knocked off, if left in the laptop. Well placed 'Back' button, which is handy when researching on the internet. Standard AA battery which lasts ages. Good, smooth wheel, which doubles up as a third (middle) button. Make sure that middle button is configured to open a new tab when you click a link in your browser – that way you don't lose the original page you've just come from.
Around £20 from Amazon http://amzn.to/24bdl8Q