Fibre broadband 15x faster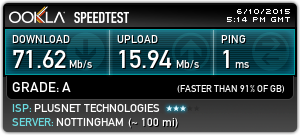 – How fast do you want your broadband to go?
– How much data do you use?
– What's the best router?
– Are you secure ?
Just completed a fibre broadband upgrade for a growing customer with mobile staff and VPN requirements. Their old ADSL broadband was 3.9Mbps download and 1.1Mbps upload … slow! BT finally got around to providing fibre at the street cabinet two week ago and the office broadband upgrade went live yesterday …. 71Mbps down and 16Mbps up! So thats 15-18x faster, can't wait to see the reaction in the office.
But more importantly – the reaction of the staff working from home. The connection will fly now.